Turmeric is an Indian species with numerous benefits for skincare, especially for its antioxidant and anti-inflammatory properties.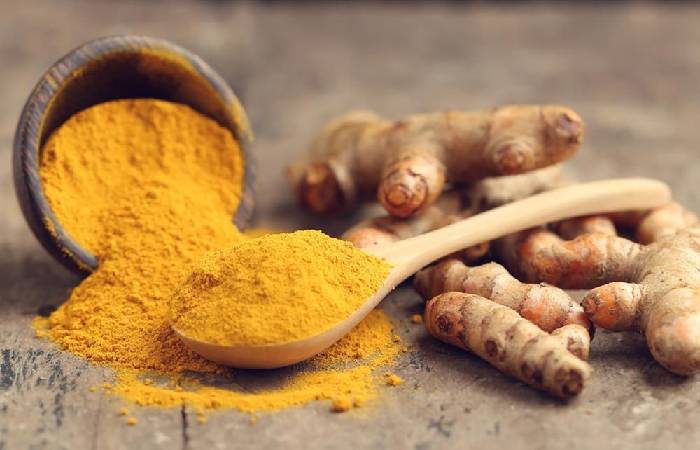 It extracts from the root of a plant known as Curcuma longa that comes from southwestern India.
Turmeric is very versatile and can consume in different ways
seasoning your favorite dishes in your daily diet,
applying it topically with homemade facial masks and even,
taking high-quality turmeric supplements.
There are also many products in the cosmetic market that use turmeric among their ingredients.
They are generally anti-aging creams that allow nourishing and repairing the dermis to maintain youthful skin and reduce the signs of premature aging.
Turmeric benefits for skincare
Our skin is exposed daily to various factors such as UV exposure, poor eating habits, or stress, which can accelerate the aging process and wrinkles' appearance prematurely.
If you use turmeric as part of your diet or beauty routine, it could help curb the first signs of aging.
Antioxidant effect
Due to its high vitamin C content, turmeric has antioxidant properties that are excellent for maintaining youthful skin.
You can apply a revitalizing face mask once a month to keep your skin hydrated and radiant.
Homemade turmeric-based anti-aging mask
This homemade anti-aging mask is very revitalizing, brightens the face, and delays the appearance of wrinkles, as it deeply hydrates and nourishes the skin and eliminates dead cells.
Ingredients
2 tablespoons of honey
1 ½ tablespoon turmeric powder
½ tablespoon of coconut oil or olive oil
The juice of half a lemon
Mix all the ingredients in a bowl and apply them with a brush or your fingers on the face and neck.
Leave the mask to act for 15 minutes and remove it with warm water.
Decrease acne
If you want to reduce and eliminate those tiny pimples, turmeric is an effective natural remedy against acne.
To fight bacterial infections and keep acne at bay, you can have a glass of warm milk and mix a teaspoon of turmeric at night and before bed.
If you want to use turmeric locally and directly on your skin, you can make an acne mask.
Turmeric acne mask
This mask is applied directly to the skin.
One of its key ingredients is turmeric.
It can help you reduce inflammation and eliminate pimples, thanks to its antiseptic and soothing properties.
Ingredients
1 tablespoon of honey
1 tablespoon turmeric powder
And 1 tablespoon of yogurt
Mix all the ingredients well until you get a uniform paste.
Apply the mask on a clean face, especially in areas with pimples and blackheads.
Leave it on for 10 minutes, remove the mask with warm water and apply a light moisturizer.
Natural scrub to reduce skin blemishes
Turmeric provides a very gentle exfoliating effect on the skin, reduces skin blemishes, and achieves a more homogeneous tone.
Turmeric mask to remove skin blemishes
To eliminate these annoying stains, we suggest trying a homemade facial mask recommended to apply at night since you must avoid sun exposure after application.
How to make a turmeric mask to remove skin blemishes
Ingredients
½ lemon
1 tablespoon turmeric powder
Mix both ingredients in a bowl until you get a smooth and homogeneous paste.
Apply the mask to the areas of the face where you want to lighten and remove the spots.
Let it act on the skin for 10 minutes and remove it with warm water.
Remember that it is better to use this natural remedy at night, 2 or 3 times a week.
It will help you reduce spots and unify the skin tone.
Immediate luminosity
Using turmeric can also help you reveal a better tone.
Its illuminating advantages make it a great ingredient in masks since they manage to combat dullness and reduce blemishes.
Combining other agents such as vitamin C or alpha-hydroxy acids is an excellent alternative to show off a smooth, glowing skin full of vitality.
Years less insured! The truth is that, although it is a cluster of benefits, its use during pregnancy and lactation not recommend
Reduces wrinkles
Its anti-aging benefits back by studies that place it in a privileged place to combat skin wrinkles' appearance and deepening.
According to a study carried out in 2009 by the department of functional biomedicine at Ehime University (Japan), it prevents and repairs damage caused by ultraviolet B rays, causing the dermis to wrinkle and lose elasticity.
Thus, consumed twice a week (1000 mg/kg) improves the signs of aging.
An example? If you weigh 55 kg, divide 1000 mg / 55kg = 18 mg. As two daily intakes suggest, the maximum should not exceed half a teaspoon of sugar per day.
WISH LIST
Are you ready to integrate turmeric into your routine?
We leave you a list of products tested and approved with this ingredient.
MASK TO CALM AND BRIGHTEN THE SKIN OF THE FACE, HELLO FAB GINGER & TURMERIC VITAMIN C JELLY MASK, FAB FIRST AID BEAUTY.
 ANTI-AGING AND ANTIOXIDANT SERUM, DOUBLE SERUM COMPLETE AGE CONTROL CONCENTRATE, CLARINS
 CLEANSER, 24K GOLD PURE LUXURY CLEANSING BUTTER, PETER THOMAS ROTH.
 SOOTHING EYE CONTOUR SERUM, DR. ANDREW WEIL FOR ORIGINS MEGA-MUSHROOM SKIN RELIEF EYE SERUM, ORIGINS.
 GROUND TURMERIC , SIMPLY ORGANIC.
 ANTIOXIDANT AND ULTRA-HYDRATING SERUM THAT COMBATS IMPERFECTIONS, PRE: EMPT SERIES SKIN PERFECTING SERUM, PERRICONE MD.